Use of the TFI as Standard and the new 12 Module CBT for Tinnitus course
CBT for Tinnitus E-Programme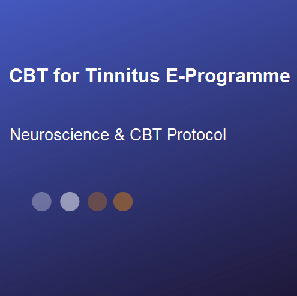 The new 12 module course was introduced mid-June 2020. Until then, the CBT for Tinnitus E-Programme was limited to helping those with up to moderate tinnitus distress.
Both the pace and content for the new 12 module course is based on the clinical need identified through those with severe tinnitus I have worked with on a 1-1 basis.
What this means for the users of the CBT for Tinnitus 12 module is a MUCH REDUCED cost. All 1-1 is costly - around 20+ hours of 1-1 therapist time - and often meant those that could benefit were prohibited from doing so.
The cost (£175.00) for the 12 module course that includes two 1-1 appointments is the same as for the 6 module course with two 1-1 appointments.
Coinciding with this new addition is the use of the Tinnitus Functional Index (TFI) as the standard measure for tinnitus distress. The THI (Tinnitus Handicap Inventory) was previously used as the standard measure, and the TFI was used in addition only by those embarking on the course.
Not only is the TFI more sensitive than the THI - which means it is more sensitive to change over time - but it gives more useful information than the THI was able to give. This is due to the 8 subscales calculated within the TFI:
Intrusiveness




Sense of Control




Concentration




Sleep




Auditory

Relaxation

Quality of Life

Emotional
Obviously, the first time the questionnaire is completed gives a "score" for tinnitus distress; this is not, however, the sole purpose of using measures such as the TFI. The purpose is to measure CHANGE.
With the 8 subscales, over time, it isn't only an overall change that is measurable (as with the THI) - the TFI makes it possible to see improvements AND identify what still needs to be addressed. This is particularly significant for those who will be using the new 12 module course - as it is for those I work with all 1-1. The measure is repeated part-way through the course in Module 6 of the 12 module course, as well as at the end of the process.
LINKS